Whether you've taught Y320 in previous years, or you're thinking about it for the coming year, this blog post will explain the compelling reasons why we teamed up with SOAS to create this intuitive digital resource portal for history teachers.
Our primary motivator was that we both share the same core value, namely "Promoting cultural understanding and Delivering for Teachers".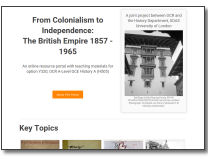 By visiting the free to use history resources portal page to get your overview, explore the many links we've assembled, and select and adapt online resources for your own teaching needs.
Our Partnership with SOAS, circa 2018
Over the past five months, OCR and the Department of History of SOAS, University of London have worked together to develop this online portal with a wide range of teaching materials.
Although it has been designed for option Y320 (From Colonialism to Independence: The British Empire 1857 – 1965), the information can be used by anyone teaching general topics of British Empire at an appropriate level.
The portal is structured around four key topics and three depth studies, covering key issues as specified in Y320.
How we Developed the Portal
The collaboration started early this year, with inputs for content and design from both OCR and SOAS.
After a soft launch in April, we collected feedback, constructed various solutions and made significant revisions.
Off the back of this, we organised a highly informative workshop in early May, where OCR subject advisors explained the school exam system to leading historians.
This gave them a better understanding of the overall student experience before they moved on to higher education.
"It is an exciting prospect to be able to develop these connections and turn these conversations into more tangible outcomes." Mandy Sadan at SOAS
As a result from this resource portal, it has proven to be an important step towards building partnerships between higher educational institutions, exam boards and other key stakeholders to bring benefits to teachers and students alike.
Launch Day
In February 2018 we announced in our newsletter the construction of the portal. This first launch, however, is not the end of our collaboration, but just the beginning.
Keep in Touch with OCR
We are committed to continuously improving and updating the portal and as always, we're eager to listen to your suggestions. You can submit your questions and comments or send your tweets to @OCR_History.
Sign up if you wish to receive regular email updates about OCR History, whether it's our latest updates, the Talking History newsletter or details of our upcoming events.