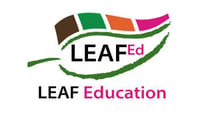 Remember the classrooms of the '80s and '90s? Often there was a small table in the corner dedicated to nature finds. Generations of children shared precious treasures - colourful autumn leaves, a bird's nest, springtime catkins, brought into school to be labelled and displayed with pride. Often these little tables of treasures would be the inspiration for a lesson on the seasons, lifecycles, or rudimentary biology.
In today's technology-driven classrooms, nature tables have become a rarity in place of laptops and iPads. Somehow, connections with nature seem less possible.
A hundred years ago, most children, particularly those from rural areas, would know at least some of the names of the plants in their local hedgerows or the birds that visited their garden. This knowledge is increasingly rare now. The term 'nature deficit disorder' was created over 15 years ago to describe the consequences of children's increasing alienation from the natural world. This included diminished use of the senses, attention difficulties and higher rates of physical and emotional illnesses.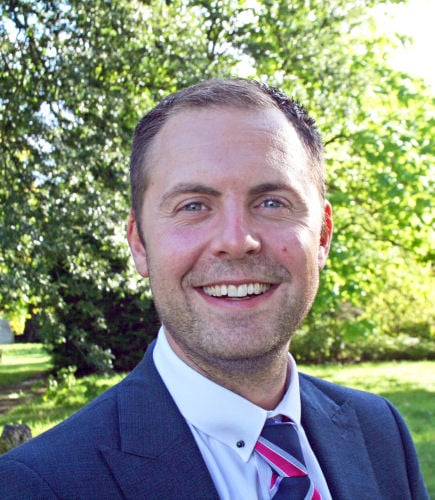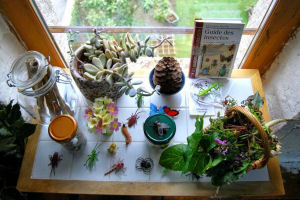 A study, conducted in August 2019, commissioned by the family activity app Hoop, found that 51 per cent of UK children were unable to identify a stinging nettle. The research involved 1,000 children aged 5 to 16 being shown various natural objects and asked what they were. 97% failed to identify a beech leaf, while 82% failed to recognise an oak leaf. When shown a bumblebee, 83% of children did not identify it.
Nature at the heart of the curriculum
Concerns around children's lack of connection and understanding of the natural world, together with views that young people do not spend enough time outdoors, have led to the proposal for the development of a new GCSE in Natural History, of which LEAF Education is wholly supportive. This would be a very positive step in helping to drive re-engagement with nature as well as give environmental issues more prominence in the curriculum.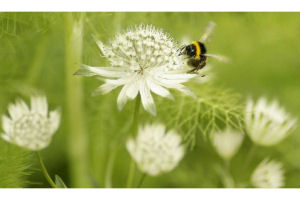 Natural History taps into the big movement of young people who care about the natural world. Our experience is that young people really want to know more about where they are living, what is around them, how the food they eat is connected to it and crucially, how that fits into wider climate change issues such as soil health, sustainable diets, biodiversity loss and carbon reduction. Yet at the same time, students also have a desire (or belief that they need) to succeed at school. The opportunity for a GCSE in Natural History brings the two together.
Teenagers talk farming
In 2018, we conducted a twelve-month research programme, supported by Rothamsted Research, comprised of a survey of over 1,200 12 to 18 years olds across the UK. We also interviewed 60 teenagers about their understanding of the natural world, its role in food production, how they accessed information about nature and whether they had considered a career in the land-based sector.
The research revealed that despite teenagers feeling disconnected to farming and the natural world and having limited understanding of what it delivers, many of today's young people are interested in how their food is produced and the work farmers do. In particular, they hold strong views around the environmental impact of farming and, furthermore, they would like to know more about career opportunities available in the sector.
67% of young people were interested in food production and farming. This broke down to 32% of young people wanting to find out more and 35% of young people who would consider a career in food and farming.
Yet only 22% of those interested have ever received relevant careers information.
35% believe strongly that science and innovation will underpin a sustainable future for farming.
87% of those surveyed believed that young people should be more interested in how food is produced and where food comes from.
75% of young people believe that science and technology will underpin a sustainable future farming system.
The research revealed the importance of connecting with nature for our young people; and that the opportunity for them lies in true experiential learning. They wanted to experience 'it all' and see behind the scenes. Those surveyed aged 15 and over wanted this connection but added that they needed to see how it would benefit them in their GCSE and A Levels. For them the best opportunity would be to embed farming more explicitly into their current subjects. This is what LEAF Education aims to do – highlighting that food production, farming and the natural environment can be the vehicle to deliver nearly all subjects. We believe that the farm setting provides wonderful opportunities, to not only learn about a multi-billion pound global industry, but also environmental science, geography, maths, English, history, all three sciences, food preparation and nutrition and so much more.
Building deeper connections with the natural world through farming
One of the outcomes of the research and conversations, was being challenged by participants to develop a National Competition in Farming, Food and the Natural Environment.
We rose to the challenge and since 2018, have run this in partnership with Coleg Cambria at Llysfasi College (a land-based college in North Wales). This competition offers young people an in-depth experience of farming over a weekend, where they compete to address a hypothesis. We are always blown away by the passion that young people have. We are also acutely aware that young people appear to be more disconnected, with most of those competing in 2019 believing that cows were still milked by hand, by someone sitting on a three-legged stool! More can be done and must be done. Over a third of those who attended the weekend competition (with their teachers, who are provided with free CPD), have gone on to apply for a place at a land-based college, something they had no idea existed before the competition. The desire is out there, but knowledge of routes and opportunities is limited. LEAF Education aims to provide this service to our young people – challenging their misconceptions, providing those opportunities and signposting more people into land-based roles.
Another of our outreach activities - Farmer Time - is having a huge impact in bringing farming and the natural world directly into the classroom. Schools are paired with farmers and fortnightly video calls are held offering a powerful platform for pupils to gain a real time understanding of farming and environmental issues. Interest from schools and farmers has been increasing year on year since we first launched the initiative four years ago. Last year, we paired 524 schools and farmers and reached out to 15,720 children. To find out more on Farmer Time for you and your students visit farmertime.org

Similarly, our annual farm open day – LEAF Open Farm Sunday is opening up opportunities for young people to gain a 'behind the scenes' view of farming and the environment. We regularly welcome over 250,000 people out on farm on the first Sunday in June. But last year, when farm visits were not possible due to the Coronavirus pandemic, we ran the event virtually through live video tours of farms all over the UK and across the globe. As a result, 40% of online visitors said they were more appreciative of the work farmers do and 50% told us they were more aware of farming issues after the tour.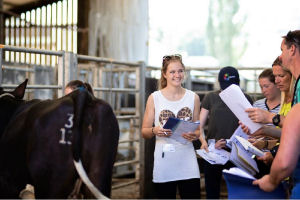 So, although we lament the demise of the nature table, we know from our grass roots work with young people that they have a keen interest in nature, the environment, and its links to their everyday lives. We also know that strengthening these connections is vital to their physical and mental wellbeing, can help promote healthier lifestyles and nurture a lifelong interest in the natural world and nurture an awareness of their own personal responsibility in protecting it.
Ownership and belonging
During the lockdown spring of last year, the natural world thrived in a year of chaos. It was a time of immense beauty and a time when many of us turned to nature like never before – for exercise, for a sense of wellbeing and identity. It is essential that we encourage young people to spend time outdoors learning about the natural world so they can develop a sense of ownership and passion to care and protect the environment now and, in the future.
If approved, the new proposed GCSE in Natural History would help put nature back in the very heart of education. Young people would be taught the skills of identifying, monitoring and recording the life around them. It would represent an important step towards producing the naturalists and environmentalists of the future – equipped to address the world's urgent climate change challenges.
LEAF Education is the education arm of sustainable farming organisation LEAF (Linking Environment And Farming). LEAF works with farmers, the food industry, scientists and consumers to inspire and enable sustainable farming that is prosperous, enriches the environment and engages local communities. Email: education@leafuk.org or twitter: @Leaf_education
Keep up to date with our proposed GCSE in Natural History and other OCR Natural History news by signing up our email newsletter and updates. You can read back issues of our Natural History newsletter here.