Museums - supporting students beyond the classroom

Ellie Chambers, Secondary and Post-16 Science Learning Co-ordinator, Manchester Museum
"Manchester Museum's commitment to the natural world is central to our core purpose. We are passionate about the role that museums can and should play – here in Manchester, and nationally – in addressing the climate emergency."
Esme Ward, Director of Manchester Museum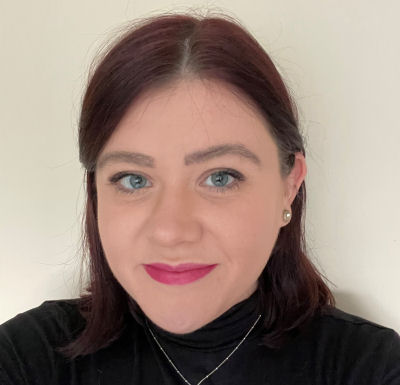 Hello future
Manchester Museum, part of the University of Manchester, is one of the UK's leading university museums. We are driven by our mission: to build understanding between cultures and a sustainable world, and our work is underpinned by our core values of inclusion, imagination and care. We are currently undergoing a major £13.5 million transformation, hello future, and we are almost there. In August we temporarily closed our doors to the public so that we can complete the phase of this work, and look forward to reopening in late 2022 with new galleries, exhibitions, facilities and programmes.
The Role of Museums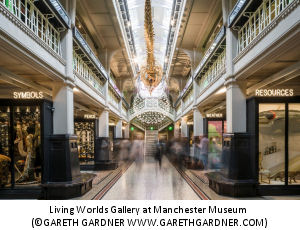 Young people across the globe have been demanding action to tackle the climate emergency but we must take care not to treat their concerns as a mandate to simply delegate all of the burden of responsibility onto them, and neither should we assume that they have all of the answers. Museums have an important role to play in supporting students beyond the classroom; we create opportunities for them to explore their interests and connect with collections, cultures, and ideas that they may never have experienced before. Using authentic items from the collection, combined with the latest research and access to experts in the field, we create a learning environment that expands on traditional classroom education. By empowering young people to be well-informed, passionate, and confident about their place in the world, we believe that museums can help young people to develop some of the skills, emotions and values they will need in the future as active citizens living on a damaged planet.
Our collection offers people a chance to interact with nature they might otherwise never see, possibly because of where they live or if the species are now extinct. As we are based in the heart of Manchester we know the difficulties many people face engaging with traditional 'nature' environments due to location, accessibility requirements, and limited resources to travel. Increasing biodiversity and encouraging nature within cities is important, but still does not make that nature immediately accessible to those living amongst it.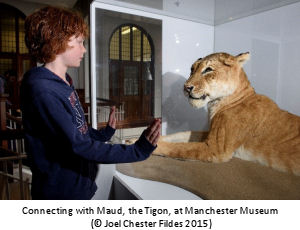 Nature connectedness, a person's sense of their relationship with the natural world and the depth of that relationship, has been linked with an increase in pro-environmental behaviour and linked with personal health and welfare. Offering the experience of nature and promoting a meaningful appreciation of its beauty to groups who are otherwise disconnected from it can encourage the development of this relationship and the benefits it brings. Sadly, this is often lowest during adolescence, but through championing this relationship within the educational programme museums can work to counteract this decline. Importantly, nature connectedness is one way to encourage well-being amongst young people who are suffering from 'eco-anxiety' caused by fears over the declining natural world, climate crisis, and global inaction. Museums can provide an opportunity to highlight the relevance of critical thinking, creativity, and problem solving when creating a sustainable world and tackle the sense of helplessness that can affect us all.
The Future of Education
We believe that the ecological and climate crises are relevant to both aspects of our mission: they are as much cultural and social justice issues as they are scientific and environmental. The climate and ecological crises call for collaborative working, collective action and cooperation both globally and locally. As we develop our new educational programmes social justice and environmental action will drive our work. These themes go hand-in-hand as marginalised groups are often the worst affected by the impact of our declining natural world. There is so much to learn from the different ways in which people understand, live with and perceive their place in the world, and we cannot continue to assume that Western worldview and scientific process is the only, or even the most appropriate, understanding on which to base our decisions and actions. We are urgently transforming how we support ecological thinking and action, build more sustainable futures and inspire cooperation and change in our city. With an emphasis on decolonisation and collective action, the museum offers a convening space where we can work together to begin tackling the major social and environmental challenges that face us.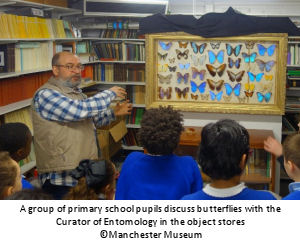 Our learning programmes benefit from the expertise and enthusiasm of both our curators and colleagues from across the University of Manchester, and will continue to involve them in the content and delivery of our programmes in the future. This exposure to passionate staff and innovative research can make the museum more exciting, show the diverse range of opportunities available across a variety of disciplines, and encourage young people to pursue careers that they care deeply about. Through these encounters, we hope to inspire and support the next generation of botanists, entomologists, zoologists, and geologists, but also to nurture in all young people a love for the natural world and understanding of their place within it. Building this emotional connection is intrinsic in caring for our local communities and is perhaps the most important thing that we can do as a museum.
Natural History GCSE
A Natural History GCSE will be a great way to encourage nature connectedness within the classroom, but it is very important that students understand the different practical applications of their studies and museums offer the perfect space to do so. Should OCR's proposal for a Natural History GCSE be accepted, organisations such as Manchester Museum should be utilised as spaces to investigate the natural world through our collections and participate in the challenging scientific, ethical, and cultural discussions that surround the discipline. This is significant for young people and adults, and it is equally important to support teachers in their CPD by exposing them to topics that they may have limited experienced in before launch so that they are confident in the nuances surrounding natural history conversations. We anticipate supporting schools across the North West who undertake this proposed GCSE, both in the phases before launch and as an ongoing venue for students of the GCSE to collaborate and explore their passions. We sincerely hope that the proposal will be approved soon but, in the meantime, hope that by offering our support alongside so many others that the seriousness of the need for this type of qualification is understood.
It is all of our responsibility to tackle the climate crisis, but it is also our job to train, encourage, and inspire the next generation of scientists, artists, journalists, economists, politicians or even natural historians, and to equip them with the skills and compassion they will need to live in a broken world.
Keep up to date with our proposed GCSE in Natural History and other OCR Natural History news by signing up our email newsletter and updates. You can read back issues of our Natural History newsletter here.