Will I ever see a living hedgehog?
Dr Meryl Batchelder,
Science Teacher,
Corbridge Middle School
With the climate alarm bells ringing in our ears following a year of wildfires and floods around the world alongside a reported loss of biodiversity causing widespread grief among international conservationists, it is high time to encourage young people to appreciate and celebrate the natural world for those not already doing this. Lockdown seemed to provide an opportunity for many people to take a step over the threshold, out of their homes and open their eyes anew. With few cars on the road and contrails from airplanes unusually absent in the sky, the air seemed fresh, the birdsong seemed louder and everything just felt somewhat greener. Many people seemed to reflect back on the elusive good old days prior to our current fast, technology-driven lifestyles.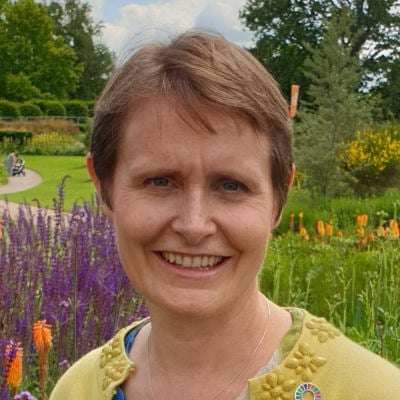 We should take the time to celebrate and understand nature. Having taken part in the open consultation for the OCR GCSE in Natural History last year I'm excited for students around the country to be able to start signing up.
As a middle school teacher I might never have the actual opportunity to teach Natural History at KS4. Part of me is a little relieved. Could I identify an elder from an alder in the field? Would I be able to explain the difference between frogs and toads to students without using a Google search? But actually the course isn't just about being able to distinguish fauna and flora. It will encourage students to explore the world outside of their classroom, to consider human impacts on the world and explain our changing views of the planet.
In my school we spend three hours a week on science with pupils from KS2 and KS3. I recognise that, even at this level, there is unbelievably little natural history in the national curriculum. Yes, we learn about habitats, life cycles and plant reproduction in Year 5 and in Year 8 we cover food webs and environmental interdependence in greater detail. However, there is little focus on ensuring pupils really understand how precious and precarious the natural world is. Unless individual teachers are particularly enthusiastic about sustainability and biodiversity then pupils are very unlikely to be able to identify the UK's common trees, shrubs, mammals, insects or reptiles. This is the young peoples' loss in many ways and can worryingly lead to a lack of respect for nature. My school is in rural Northumberland but even I was recently asked the question 'will I ever see a living hedgehog?' by a troubled Year 5 pupil who went on to explain how they only ever saw dead ones squished on the road.
So, what can teachers in KS1 to KS3 do to engage their pupils so that they will go on to chose the GCSE when they reach KS4? Here are a few ideas which we have used in our school to promote a fascination of the natural world:
Think beyond lessons in just science or humanities to focus on the environment. Beautifully written and illustrated books such as Robert McFarlane and Jackie Morris' Lost Words can enrich an English lesson or Art Project and could introduce some of the words that are sadly lacking in our everyday conversations. Alternatively, reading classic tales such as Tarka the Otter by Henry Williamson can allow pupils' imaginations to run wild.
Take pupils outside to study Maths – count the number of worm casts in a square meter of grass, calculate the height of an oak tree using trigonometry or estimate how many berries on a holly tree.
An explorer day to the local wood, coast or even some pond dipping can introduce pupils to the 'wild' beyond their doorstep. Organisations such as the RSPB, The Wildlife Trusts or local conservation charities may be able to help.
Inner city schools can do some urban investigation work on bees, flowers, birds or foxes; you will be amazed what you find on a bug hunt or walk through the local park.
Pupils can be encouraged to find out the names of native species in other languages; the name for a robin in French is un rouge-gorge and a fox is un renard.
Native berries can be brought into school for tasting or can be squashed to produce paint for leaf prints in art. The possibilities are almost endless – Mother Nature really does provide and inspire.
Whole school projects such as setting up an EcoCommittee with EcoSchools or taking pupils to a forest school can be hugely successful. Alternatively, working with plants in a school garden or community space can often attract funding through sponsorship.
In my classroom I link all topics in the curriculum to the UN Sustainable Development Goals. They make learning relevant and engaging. I have worked on the Goals with pupils from 4 years old to sixth formers and they always promote discussion or help students understand aspects of the global issues that they face in the future. The GCSE in Natural History might not be a magic bullet to solve biodiversity loss or climate breakdown but it may provide students with the knowledge and skills they need to work on some of the 'green new jobs' we hear about in the news; forestry, ecology, land management, soil science or aquaculture. Overall the course aims to enable young people understand and love nature in order to protect and regenerate our environment.
Some folk still consider the British Isles as a green and pleasant land. However, the UK has failed to reach 17 out of 20 the United Nation's biodiversity targets and our level of habitat loss is one of the highest in the world. Hedgehogs are just one example of species in decline, with numbers now depressingly at less than 70% of those that were present when I started school but I hope that all students in the UK, both urban and rural, will be able to see the snuffling, spiky balls of cuteness in real life. Spending time in the natural world is good for mental and physical health, it promotes the passion to protect living organisms and their habitats and is essentially just jolly good fun.
Dr Meryl Batchelder
Dr Meryl Batchelder is a science teacher in Corbridge Middle School, Northumberland. She is a proponent of environmental education and aims to equip her pupils with the knowledge and skills needed for their future on a warming planet. In 2016 Meryl began linking her lessons to the Sustainable Development Goals to make learning relevant and engaging. She is a TeachSDG Ambassador and was one of the first UN Accredited Climate Change teachers. She is the lead on a pupil research project in the Royal Society Tomorrow's Climate Scientist programme and runs both an acclaimed EcoSTEAM Club and the school garden which has been awarded 5-Stars by the RHS.
Keep up to date with our proposed GCSE in Natural History and other OCR Natural History news by signing up our email newsletter and updates. You can read back issues of our Natural History newsletter here.